It is the most wonderful time of the year. People are taking off of work to travel to their loved ones to celebrate the holidays together.
Whether it be the state next door or cross-country—or continent—travels, traveling can quickly become exhausting. And now, TSA is prewarning that this year's travel may take the record—for some hectic delays and experiences.
Here are the facts to consider: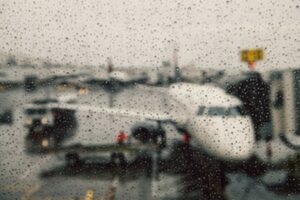 Inclement Weather
Weather forecasters are stating that this year's travel plans will be the busiest in years. However, a forecast of stormy and hellacious weather is on the brink.
These weather patterns can make for thousands of delays—and even cancellations. Plan ahead in the event you are in an area or traveling to an area that is posed for dangerous weather.
People are Ready to Get Back to Normal
After coronavirus swept the world, things are starting to get back to normal. That means that holiday travel plans may break records this year.
People are tired of being kept apart as time continues to march on. Memories must be made, and people are booking their flights at a higher rate than average this time of year—and all throughout the year.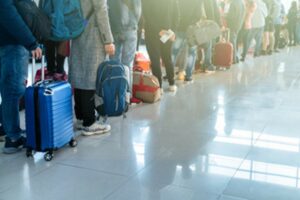 Longer Lines
The Transportation Security Administration—or TSA—states that the Thanksgiving travel timeframe typically falls between November 17-28. This year, it predicts a record-breaking 30 million passengers within that 12-day period.
Although they have shared they are adequately prepared to handle the masses, this may not be the case. Prepare for longer lines at check-in—even if you are an exclusive or elite member of your preferred airline. If those numbers truly are accurate, then this year will mark "the heaviest passenger screening volume in TSA history."
Passengers who opt for TSA's PreCheck option will also feel the effects of the increase in travelers this holiday season. A gain of 3.9 million—a 28% increase—has been calculated. The PreCheck option allows passengers who participate to get through screening lanes in under 10 minutes, whereas non-PreCheck passengers typically take 30 minutes.
On the Road Congestion
For people who want to visit family over the holidays yet want to forego the grueling airport, many opt for road trips. However, this year may also mark record-breaking driving travel this time of year.
Debbie Haas, Vice President of travel for AAA—The Auto Club Group—states, "Travel demand has been strong all year, and that trend will continue with one of the busiest Thanksgivings on record. With more people taking to the roads, skies, rails and sea, travelers should expect congested roads and longer lines at transportation terminals. AAA encourages travelers to develop their plan now, leave early, and be courteous to others."
Gas prices are also on track to be lower than last year's cost, which leads many to choose this route versus flying and high airplane ticket costs. The national gas price average hangs around $3.58 per gallon with many other states falling well below that price.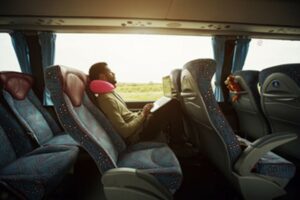 Alternative Travel Options
For people who do not want to drive yet still do not want to fly, other options are being exercised. Cruise, train, and bus travel are gaining traction for those who want to sit back and relax during their Thanksgiving travel.
These modes of transportation are becoming pre-pandemic popular once more as COVID and its restrictions push them into setbacks. The rebound has been beneficial for both the companies and their respective passengers who opt for a different method of travel.
The Bottom Line
Thanksgiving is a wonderful tradition that many Americans celebrate. Now that restrictions have been lifted, this year will be a record-breaking travel year.
Whether it be by plane, bus, car, or cruise, travel may be nightmarish this time of year. With 30+ million people all traveling at the same time, do your best to plan ahead and stay kind.
Happy Thanksgiving and safe travels!