Thanksgiving is nearly here! Whether you celebrate the traditional American Thanksgiving or simply enjoy the company of others, this is notoriously a wonderful time of year.
The autumn season is in full swing, the weather has shifted, and the leaves are changing colors. Thanksgiving marks the main part of the harvest season—but also comes with its dangers.
Here are some important tips you should know about how to stay safe this Thanksgiving: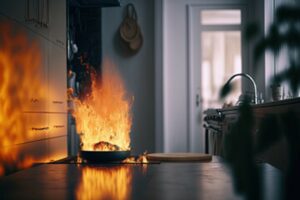 Keep an Eye on What You Fry
Cooking a delectable feast is one of the staples of Thanksgiving celebrations. However, cooking and frying in general can be inherently dangerous.
The rule of thumb is "keep an eye on what you fry". This is due to fire risks. According to FEMA, over 2,300 fires occur around Thanksgiving time. Never leave cooking unattended—even for a short period of time. Turn off the stove if you have to step away.
Use a Timer
Many people believe they have the unique ability to remember exactly when to check on the turkey in the oven and the sides on the stove. This, however, is virtually impossible.
With all of the chatter, people in and out of the kitchen, phone calls, loud TVs, and more distractions, it is easy to lose track of time. Use a timer for your bird and other items in the oven. Not only will it keep you and your loved ones safe this Thanksgiving, but the food will not burn.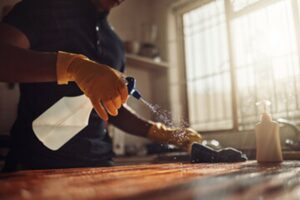 Wipe Down Surfaces
It is easy to get carried away in the celebrations and forget about cross-contamination. Cross-contamination can easily infect you, your guests, and even your pets!
Wipe down all surfaces between preparations. The moment you are finished with raw meat, wipe the surface area and the floor underneath. In addition, don't forget to either wash or use a new cutting board if raw meat was used before starting a new dish.
Have a Fire Extinguisher Handy
Not all of us are top chefs. Therefore, it is imperative to have a UL-rated fire extinguisher either in or near the kitchen. This is not only to keep your home safe, but burns can also turn deadly.
Be sure to read the manual on how to operate the fire extinguisher. To get even more prepared, go online and watch the plethora of instructional videos that detail exactly how to use this home and life-saving device.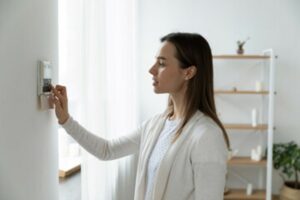 Arm Your Home Alarm System
If you don't have an alarm system, now is the time to get one. The holiday season is notoriously the most popular season for robberies.
With Black Friday around the corner and many people going on vacation for the holidays, thieves are on the prowl. You can keep your valuables—and you and your family and pets—safe during the cold, dark winter months ahead.
Blow Out All Candles
This is the time of year when many people enjoy lighting scented candles—they can truly set the mood and scene for you and your guests! However, fire hazards from candles are a very real and dangerous thing.
Be sure to blow out all the candles around your home before you leave the house and before you go to bed. Do not leave any candles unattended as drafts can knock candles over—and may burn your home down.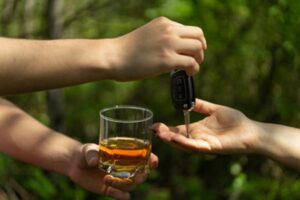 Have a Designated Driver
Holiday parties are happening now—and they are great fun! However, drinking and driving pose a true threat not only for you but also for other drivers on the road.
If you intend to indulge in the finest of liquors and holiday drinks this season, have a designated driver selected beforehand. Each holiday season, over 6,000 people are killed in drinking and driving accidents. Don't let yourself become a statistic. Do not drive whilst intoxicated.
Bottom Line
Thanksgiving is a great time to indulge in the best food and great conversations with family and loved ones. As inherent dangers are present, you, your family, and your home can all stay safe by taking the proper precautions.
You can stay safe by remembering to keep an eye on any food while you're cooking, having a designated driver, using an alarm system, using a timer, and keeping a fire extinguisher handy. You and your family will be at peace and able to enjoy this Thanksgiving.
Happy Thanksgiving!